Recordings

Impromptu
ONYX4172
Release date: May 5, 2017
This spring, pianist Shai Wosner's latest solo album, Impromptu, is released on Onyx Classics. The recording, which features improvisationally inspired works by seven different composers, marks Mr. Wosner's fourth solo recital recording for Onyx and his sixth recording for the label overall. He performs Schubert's Four Impromptus, D935; Chopin's Impromptus, Op. 29, 36, and 51; Beethoven's Fantasy in G, Op. 77; Liszt's Impromptu (Nocturne), S191; Dvořák's Impromptu in D minor, B129; Gershwin's Impromptu in Two Keys; and Ives's Improvisations for piano, I and III. Available via iTunes, Amazon.com, and other music retailers, the recording was released in the U.K. on Friday, April 7, and will be available in the U.S. on Friday, May 5.
"Shai Wosner has received accolades for his Schubert. Taking all four impromptus together, I can see why. He has a sure command of the flow of these pieces, an immaculate tone favoring the quiet, and an articulation that is in a class by itself." — Audiophile Audition
Beethoven: Complete Sonatas &
Variations for Cello & Piano
Ralph Kirshbaum & Shai Wosner
ONYX4178
Release date: December 9, 2016
Recorded at at London's Wigmore Hall, Kirshbaum and Wosner decide to record the 5 sonatas and the sets of variations after a tour that took them across the US and the UK. Kirshbaum brings a lifetime of insight and profound love for this music and is superbly partnered by Wosner (a former BBC NGA and a BBT artist) who has firmly established himself as a major interpreter of Beethoven as well as Schubert, Mozart and Haydn, not to mention composers such as Ligeti. This is music making of the highest order.
"The playing is probing yet unaffected, thoughtful yet delivered with a simplicity that lets Beethoven's lyrical succinctness shine through the maelstrom of emotions that flavour the sonatas' expressive twists and turns... Kirshbaum brings effortless maturity to all these works, supported by the poetic solidity of Wosner's pianism." — THE SCOTSMAN
EDITOR'S CHOICE
"Listeners fortunate enough to hear this duo in this repertoire in concert in London recently will know what a treat they are in for. Kirshbaum, 70 years young, is in fine form with distinctive rich-yet-lithe tone and deeply intuitive phrasing. His partnership with Wosner is inspired, the pianist as refreshingly supple as he is insightful." — Guy Weatherall, Classical Music Magazine
Haydn & Ligeti: Concertos & Capriccios
Danish National Symphony Orchestra
ONYX4136
Release date: June 3, 2016
Pianist Shai Wosner's eclectic new recording pairs concertos and solo pieces by Franz Joseph Haydn (1732-1809) and György Ligeti (1923-2006), exploring their quirky humor and other connections across centuries. Performing with conductor Nicholas Collon and the Danish National Symphony Orchestra, Mr. Wosner plays Haydn's Piano Concerto No. 4 in G, Haydn's Piano Concerto No. 11 in D, and Ligeti's Piano Concerto, one of the most challenging piano works of the late 20th century.  The concertos are interspersed with solo works including Haydn's Capriccio (Fantasia) in C, Haydn's Capriccio in G, "Acht Sauschnider mussen sein" (It takes eight to castrate a boar), and Ligeti's rarely heard Capriccios Nos. 1 and 2. The recording will be available from iTunes, Amazon.com and other music retailers on Friday, May 20 in the U.K. and Friday, June 3 in the U.S.
One of The New York Times "Best Classical Music Recordings of 2016"
"The centerpieces are piano concertos: two by Haydn and Ligeti's uproarious, rhythmically knotty contribution to the genre... all is played with style, flair and velvety touch by Mr. Wosner..." — The New York Times
Schubert/Mazzoli
ONYX4136
Release date: November 10, 2014
In his third recital album on the Onyx label, pianist Shai Wosner pairs works by Schubert with those by Brooklyn-based composer Missy Mazzoli. The recording includes Schubert's Six moments musicaux, D. 780; Ms. Mazzoli's 2007 work for piano and electronics, Isabelle Eberhardt Dreams of Pianos; and Schubert's Sonata in A Major, D. 959. As part of the release, Mr. Wosner also performs Ms. Mazzoli's A Map of Laughter, a two-minute work commissioned by Mr. Wosner, available as a bonus track by download only. Both of Ms. Mazzoli's works on the album take their inspiration from the Schubert works that accompany them: Isabelle Eberhardt is a meditation on Schubert's A-Major sonata and A Map of Laughter is influenced by the fourth movement of Schubert's Moments musicaux.
Signs, Games + Messages
Cedille Records: CDR 90000143
Release date: October 29, 2013
Signs, Games + Messages, a new recording by violinist Jennifer Koh and pianist Shai Wosner, will be released by Cedille Records on Tuesday, October 29, 2013 (digital download and pre-orders begin Tuesday, October 1).
Schubert:
Piano Sonatas D840 and D850
Six German Dances D820
Hungarian Dances D817
Onyx 4073
"…this new [Schubert CD] puts him straight into the front rank of the Schubertians." — BBC Music Magazine
"With this recital Shai Wosner declares himself a Schubertian of unfaltering authority and character." — Gramophone
"The Six German Dances and Hungarian Melody…are simply delightful: lilting, energetic, and with a sense of intimacy."
— International Piano
Samples:
Schubert: Hungarian Melody D.817
Schubert: Sonata in D Major D.850, Op.53, I. Allegro vivace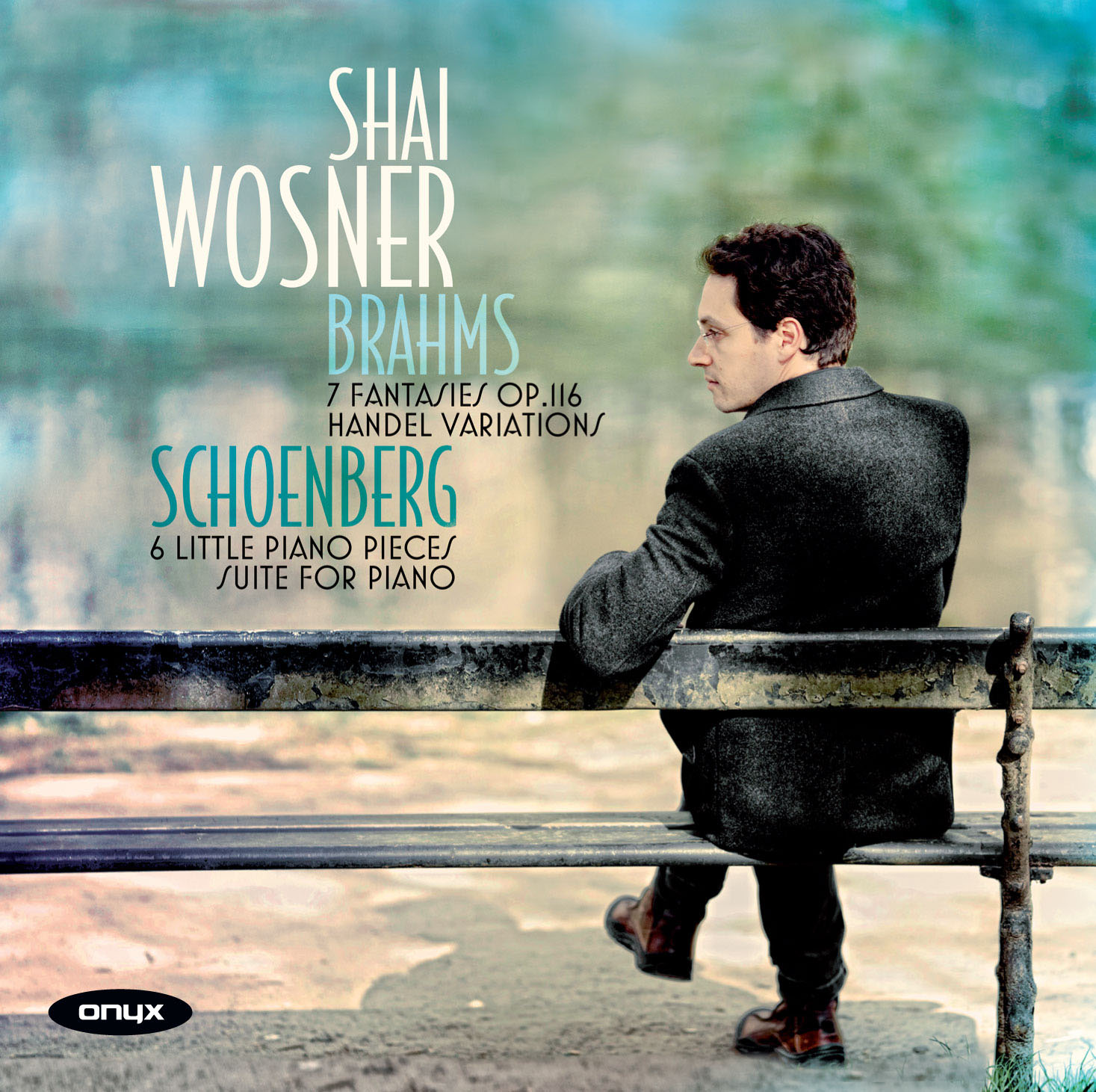 Brahms:
Seven Fantasies Op. 116
Handel Variations
Schoenberg:
Six Little Piano Pieces
Suite for Piano
Onyx 4055
"This is an inventively conceived and impressive recording."
— The New York Times
"Brahms' Variations and Fugue on a Theme by Handel…is a showcase for Wosner's variety of touch at the keyboard, and for the different musical worlds he creates."
— NPR All Things Considered
"This is pianism of the very highest order, involving and full-blooded, with such burnished passion from Wosner that it is a surprise that these are not live performances…In short, a fascinating disc: this is a pianist to watch." — International Piano
Samples:
Brahms: Intermezzo Op.116 No.2
Salvatore Sciarrino:
Piano Sonatas II - V / 4 Notturni